PHDA Workshops & Programs: Serving a Purpose
PHDA workshops and programs are the primary way we fulfill our mission to empower low to moderate income residents to become home owners in their community as stakeholders, strengthening their neighborhood, and improving quality of life. Each of our workshops and programs serves one or more of our key objectives:
increase the number of low and moderate income residents who are able to become successful first-time homebuyers
increase the supply and accessibility of affordable housing for low and moderate income residents
develop residential properties and conditions that have the potential to stimulate reinvestment in transitional neighborhoods
rehabilitate existing housing stock to produce affordable homes of exceptional quality and energy efficiency
Free First-Time Homebuyer Education Workshop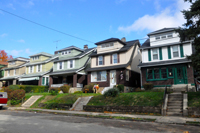 PHDA, Inc. sponsors a two-hour Homebuyer Education workshop that provides information about the costs and steps involved in purchasing a home. Enrollment and successful completion of this program is required to qualify for low cost mortgage options, as well as assistance with down payment and closing costs. View our upcoming workshops schedule.
Financial Education Course
This series of in-depth workshops covers a broad range of topics related to money management, financial planning and wealth creation — important information to help you buy your first home, and ensure that home ownership will succeed and improve the quality of life for you and your family. View our upcoming workshops schedule.
Single Family Home Rehab Construction Program
Through this program, we will work to increase the number of affordable homes for qualified low and moderate income families by rehabilitating existing Wilkinsburg housing stock, including reducing energy usage by adopting energy-efficiency standards. (In Development — check back for updates.)