Our History
Nearly 30 Years of Service
Pittsburgh Housing Development Association, Inc. (PHDA) was established as a community housing advocate group in 1982. Our founding members were residents of Pittsburgh's East End who were concerned with the community's lack of decent affordable housing. Among other actions, they urged Pittsburgh City Council to increase Community Development Block Grant funding to address this problem in the Homewood-Brushton neighborhood. One of our community meetings during this time received coverage from the Post-Gazette.
Our organization has evolved through the years, but one fundamental belief remains the same: efforts should focus on rehabilitating existing housing stock that will be affordable for low and moderate income homebuyers. This approach has many benefits: economic growth through construction-related jobs, a substantial increase in property taxes, and more residents who have a real stake in strengthening the community.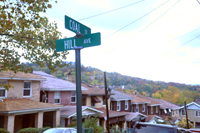 Moving Forward: An Innovative Nonprofit
In 2005, PHDA received tax-exempt 501(c)3 status, with a mission of empowering low to moderate income residents to become home owners. We now provide educational workshops and programs that help those we serve qualify for first-time homebuyer down payment and closing cost assistance, while sharpening financial and other skills needed to succeed as home owners.
Working with partners like Dollar Bank, PHDA has helped several families through the homebuying process. Our primary focus is currently the Borough of Wilkinsburg — where only 35% of residents own homes, and a vast housing stock exists that can, and should, be rehabilitated to create affordable, energy-efficient homes.
Two founding members continue to serve on our board of directors. Joined by three newer board members and many dedicated volunteers, we look forward to the next chapter in our history of service to those who dream of owning a home and those who see increased home ownership as a way to strengthen our neighborhoods.
"I did enroll in the program and am planning on purchasing a home in June with the help of the 3 to 1 program offered by Dollar bank. I was fortunate to enter the program with decent credit scores and living in the house I want to buy."