Who We Serve — and Why
PHDA exists to help low to moderate income families become first-time homebuyers and successful home owners. The recent housing crisis has made it harder than ever for such families, but Fannie Mae's 2010 National Housing Survey found that 75% of renters would still prefer to own. We believe that qualified low and moderate income individuals should own — and communities are strengthened when they do.
Currently, we focus on opportunities in the Borough of Wilkinsburg, which borders Pittsburgh. Wilkinsburg's population of 19,000 is 70% African American, with an annual median income of $26,600. It has the highest Section 8 per capita occupancy in Allegheny County, and only 35% of residents are home owners — far below the national average of about 67%.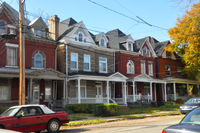 We strive to improve Wilkinsburg's owner-to-renter ratio by presenting educational workshops and programs on issues like credit and money management, the advantages of owning over renting, how to qualify for first-time buyer down payment and closing cost assistance, home improvements, and more. Such education is an important first step in helping more individual families become home owners. And creating more home owners is a good first step in turning around neighborhoods.
Owning a home does present risks, especially for low and moderate income families. But organizations like PHDA are partnering with government agencies, corporations, churches, and other stakeholders to help even the odds. Our goal is not just to ensure that families have opportunities to buy decent affordable housing, but also that they have the knowledge they need to be financially responsible, keep up the property, and improve the quality of life for themselves, their children, and the community.
If you're a low or moderate income renter who's been dreaming of owning your own home in Wilkinsburg, PHDA may be able to help — and connect you to other organizations that can help you realize your dream. For more information, email Info@phdainc.org or call 412.242.2700.
"When I entered the program I did not know a lot – but with the help of Dollar Bank's classes and Judith Mason, I am a lot more informed and know what I need to do to achieve my goal of being a homeowner."